Party Match
This page is in need of more images. Please help ARMS Institute by uploading more.
Party Match is a multiplayer mode in ARMS. It allows players to partake in every multiplayer versus mode with strangers online, or with friends in a local or online lobby. Players are rewarded with tokens based on how well they do, which can then be spent on the ARM Getter.
Matchmaking
[
edit
]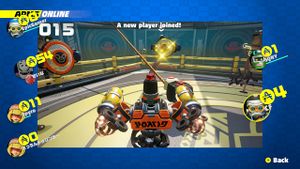 Every lobby in Party Match consists of players on up to ten Nintendo Switch systems, with a maximum of two players per Switch. Within lobbies, two to four players will be randomly grouped together for each match, which is in a random Versus mode and (if applicable) stage. Solo players can enter and leave lobbies between matches as they wish, though a group of two players on one Switch must leave together.
While waiting for a match, a player can choose to warm up, which will take them to the Sparring Ring stage. Here, the Cell will appear holding targets for the player to attack. There is an extremely small chance that a target held by the Cell will be golden instead of its usual red color; destroying this target will award the player with 1

.
The following modes exist in either the Testpunch or full iteration of Party Match: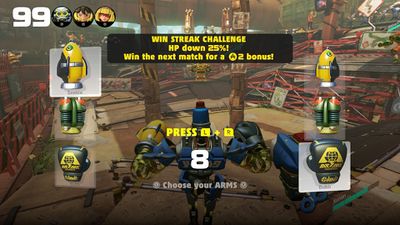 Party Mode has a single, standardized ruleset that cannot be changed by players unless they are in a private lobby. Elements of the ruleset include:
The timer is set to 99 seconds.
Items are enabled.
The health and rush gauge are set to their default.
Players who are on a winning streak will start with less HP, but are rewarded with more if they win (three wins in a row: 25% health down for +2↑; five wins in a row: 50% health down for +3↑; seven wins in a row: 75% health down for +4↑), while players who are doing poorly (three losses in a row) start their next match(es) with their rush gauge filled until they win.
Names in other languages
[
edit
]
Language
Name
Meaning
 Japanese
パーティマッチ
Pātī matchi
Party match
 Dutch
Partywedstrijd
Party match
 French
Match non classés
Unclassified match
 German
Standard Kampf
Standard Fight
 Italian
Amichevoli
Friendly match
 Russian
Любители
Lyubiteli
Fan
 Spanish
Combate en grupo
Group fight
 Portuguese
Luta em grupo
Group fight