Party Crash
From ARMS Institute, the ARMS Wiki
This page is a stub and needs more information. Please help ARMS Institute by expanding it.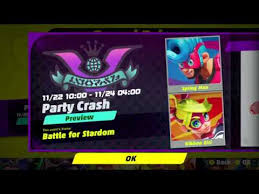 Party Crash is a limited time event in ARMS. It is similar to Party Match but with special rules, where players compete to level up and win big prizes when the event is over.
Each Party Crash is a competition between two "Featured Fighters".
Overview
[
edit
]
Party Crash has a lobby system similar to Party Match but, for a three to four day period, winning matches will build up points, with a certain amount of points raising a user's level. Starting with 50 required points, every 5 levels requires 50 more points. This means a player at rank 10 will need 100 points to reach rank 11, and so forth. 10 points are awarded for losing/drawing a match and 20 points are awarded for winning a match. However, the player can have their points then multiplied based on the Fighter and ARMS the player uses, and if any Bonus Events are occurring.
Using any of the "Featured Fighters" multiplies points by 1.5 and using any of the "Bonus ARMS" (which change every 15 minutes during a Party Crash) also multiplies points by 1.5.
At the end of the three day period, players will be rewarded based on how well they did. Players receive 50

per level, and also receive badges based on which "Featured Fighter" they used more, with a normal and shiny variants at levels 5 and 10 respectively. After that, every 5 levels, a random badge is awarded, up to level 30.
In-game, it is said the ARMS Lab is behind the Party Crash so they can gather data. Whilst a Party Crash is happening, players cannot play in normal Party Match lobbies but may still play in Ranked Match.
List of Bonus Events
[
edit
]
Every fifteen minutes, the bonuses for the lobby change. The bonus ARMS can be different than before, and in the last five minutes before the bonus ARMS change, players have a chance to earn more points in a Bonus Event, each unique in its own way. Each event has a multiplier to increase points either by two or by three.
Just Battles: Normal battles with a multiplier.
Now It's Personal: One on one matches only.
Last ARM Punching: All matches will have at least three to four players either Fight or Hedlok Scramble.
Team Building Activities: All matches are Team Fight and VS Hedlok.
Hoops Heaven: All matches are Hoops.
Ultimate V-Ball: All matches are V-Ball.
Sharpshooter's Delight: All matches are Skillshot.
Too Many Hedloks: All matches are VS Hedlok.
Hedlok Megascramble: All matches are Hedlok Scramble.
All-You-Can-Hedlok: A combination of both Hedlok game modes.
Sparring Time: All matches are on Sparring Ring.
ARMS Labs Selects: ARMS are randomized for each fighter.
ARMS Labs Selects (1-on-1): ARMS are randomized for each fighter. One on one matches only.
One Hit Wonder: Fighters can be KO'd in one hit.
SO MUCH RUSH: The Rush Meter is full for the whole match.
SO MUCH RUSH (1-on-1): The Rush Meter is full for the whole match. One on one matches only.

(Needs more information.)
List of Party Crash events
[
edit
]
Party Crash Events
Theme & Featured Fighters
Date and Time
Results
Prizes
Battle for Stardom
Spring Man vs. Ribbon Girl
11/22/17 10:00 - 11/24/17 4:00
Spring Man
62%

Ribbon Girl
38%

Spring Man - Level 5

Spring Man - Level 10

Ribbon Girl - Level 5

Ribbon Girl - Level 10

Martial Arts Mash-Up
Ninjara vs. Min Min
12/08/17 10:00 - 12/11/17 4:00
Ninjara
58%

Min Min
42%

Ninjara - Level 5

Ninjara - Level 10

Min Min - Level 5

Min Min - Level 10