ARMS Global Testpunch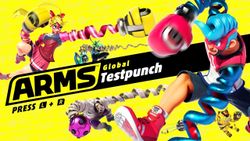 The ARMS Global Testpunch was a free online demo of ARMS that took place from 2017-05-26 through 2017-06-05. It became available to download shortly after the ARMS Direct on 2017-05-17.
Limitations
[
edit
]
As the Testpunch served as a demo, several restrictions were placed on players compared to the full game. The primary restrictions were:
The first weekend, players could not use Kid Cobra, Twintelle, or Byte & Barq. However, all characters were shown in attraction clips. Twintelle was later made playable during the second weekend.[1]
The only available stages available during the first weekend were Spring Stadium, Ninja College, and DNA Lab. Ramen Bowl was added for the second weekend.[2]
Beyond regular battles, the only other Versus mode in the first weekend was V-Ball. This was replaced with Hoops, Skillshot, and VS Hedlok in the second weekend.[3]
Neither local multiplayer, Grand Prix, Get ARMS, nor Ranked Match were available for usage.
The game was only playable during twelve one-hour time slots.
Date (GMT)
Time (GMT)
Fighters
Stages
Secondary mode(s)
Start
End

2017-05-27

00:00
01:00
V-Ball
12:00
13:00
18:00
19:00

2017-05-28

00:00
01:00
12:00
13:00
18:00
19:00

2017-06-03

00:00
01:00
12:00
13:00
18:00
19:00

2017-06-04

00:00
01:00
12:00
13:00
18:00
19:00
Staying on the title screen without pressing anything will eventually play small attraction clips of gameplay. This works even outside of the scheduled play times.
References
[
edit
]