1-on-100
From ARMS Institute, the ARMS Wiki
This page is a stub and needs more information. Please help ARMS Institute by expanding it.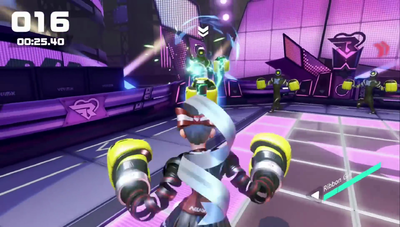 1-on-100 is a single-player mode in which the player attempts to defeat 100 of the Cell.
Overview
[
edit
]
In 1-on-100, the player's goal is to defeat 100 of the Cell. They are computer-controlled and are capable of attacking, dodging, and grabbing, but can be defeated in one hit. The enemies are split into groups of nine or ten enemies, though only up to three may appear at a time. Once a group is defeated, a Fire Bomb will appear if the player has full health; Otherwise, HP Juice will appear. No time limit exists in 1-on-100, though the time the player takes to win will be recorded.
SPOILER ALERT! Don't read if you don't want to be spoiled.
Hedlok is the final enemy players must defeat before clearing 1-on-100. It takes the form of one of the Cell, but has six ARMS and has a health bar.[1]
End spoilers.
SPOILER ALERT! Don't read if you don't want to be spoiled.
Each character has 11 different quotes that are shown once the player completes or fails the challenge. The quote shown depends on how far they get in the challenge before failing or winning. Spring Man: Level 2: "And the crowd goes WILD! Is it just me, or do those 'boings' sound like 'boos'?" Level 3: "Ah, this reminds me of that ol' sports adage--long arms'll only get you so far!" Level 4: "What you need is a spring in your step! Or possibly just more practice." Level 5: "Start practicin' that autograph, 'cause we got a star on the rise!" Level 6: "Halfway there! Next time, I'd try twice as hard!" Level 7: "That's what I'd call an A-MAZ-ING performance... if it was only slightly better!" Level 8: "What a nail-biter! Someone call the salon--'cause the whole stadium needs a manicure!" Level 9: "Ladies and gents, I'm on the edge of my seat. Let's hope my vertigo doesn't kick in!" Level 10: "That performance had me seeing stars! I gotta stop holding my breath when things get tense..." Hedlok: "You flew too close to the sun, my friend. Too close..." Win: "An epic win! Can you believe it? What am I gonna scream about now?!"
End spoilers.
Names in other languages
[
edit
]
Language
Name
Meaning
 Japanese
100人組手
Hyakunin Kumite
100-man Kumite
 Dutch
Survival
Survival
 French
Survie
Survival
 German
Hundertkampf
Hundred fight
 Italian
La sfida dei 100
The 100 challenge
 Russian
Бой против ста
Boy protiv sta
Fight versus hundred
 Spanish
Los 100 adversarios
The 100 oponents
 Portuguese
1 contra 100
1 against 100
References
[
edit
]