Kosuke Yabuki
Jump to navigation
Jump to search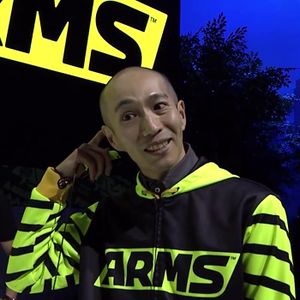 Kosuke Yabuki (Japanese: 矢吹 光佑) is a Nintendo employee and the director of ARMS. He began working at Nintendo in April of 2005.[1] His early work was mostly limited to planning various titles, until he later became the series director for Mario Kart starting with Mario Kart 7.
Mr. Yabuki is currently the manager of Nintendo EPD's Production Group 9. ARMS was his very first original project.
Work
Credited
Special Thanks
Appearances
Nintendo Switch Presentation
Main article: Nintendo Switch Presentation
Mr. Yabuki appeared after the reveal trailer of ARMS to explain the gameplay and controls and commentated a short match between Spring Man and Ribbon Girl. He also announced the initial launch window for the game as Spring 2017.
Niconico Chokaigi 2017
Main article: Niconico Chokaigi 2017
This was Mr. Yabuki's first appearance at a dedicated ARMS event. At the end of the tournament he presented the winners with ARMS T-shirts as awards.
Nintendo E3 2017
Nintendo Treehouse Live E3 2017
Mr. Yabuki appeared at various points during Nintendo's gameplay livestream at E3 to show off gameplay of ARMS and talk about its development along with Art Director Masaaki Ishikawa and members of Nintendo of America's Treehouse localization team. On the final day of E3, Mr. Yabuki revealed that Max Brass, his ARMS and Sky Arena would be added to the game in July along with Arena mode. He then showed off gameplay of these upcoming features.
ARMS Open Invitational
Main article: ARMS Open Invitational
Mr. Yabuki appeared at the end of the tournament to present the winner, Zerk, with the Championship Belt. The commentator then challenged Zerk to play in an exhibition match against Mr. Yabuki. Both of them agreed and Mr. Yabuki beat Zerk 2-0. In their first match, Mr. Yabuki hit Zerk onto the springboards in Spring Stadium, then hit him with his Rush Attack before he hit the ground—a maneuver that would later come to be known as the "Yabuki combo."
GDC 2018
During the 2018 Game Developer's Conference in San Francisco, Mr. Yabuki gave a presentation entitled "'ARMS': Building 'Mario Kart 8' Insights into a Showcase Nintendo Switch Fighter". During this presentation, Mr. Yabuki discussed the development of ARMS, showing off prototype footage, as well as early concept art of various characters and settings. He explained how he and his team used the knowledge they gained while developing Mario Kart 8 when designing the game. He also mentioned how the game was designed from the beginning to take advantage of the Switch's motion controls. Like most Nintendo games, the gameplay was solidified first, and designs were created to compliment that gameplay.
A full VOD of the presentation can be found on the GDC website.[2]
Trivia
Mr. Yabuki has reached near-memetic status due to his easy take-down of Zerk during the ARMS Open Invitational.
References