ARMS (equipment)
This article is about the glove-like weapons. For other uses, see ARMS (disambiguation).
ARMS are weapons worn on a fighter's extendable limbs (also known as ARMS), in the same way a boxer wears gloves. There are many different ARMS available to fighters; a fighter may have two different ARMS equipped at once and may switch ARMS between their chosen three at the start of each round. Each fighter has three ARMS available from the start. All ARMS can be used on any fighter by unlocking them through the ARM Getter, however each ARM can only be default on one fighter. Fighters can charge their ARMS by holding jump, dash, or block. Charging ARMS will, for a short period of time, both increase their attack power, and activate any attributes they may have. Spring Man, Min Min, and Max Brass all have abilities which, while active, allow their ARMS to stay permanently charged.
ARMS belong to one of at least five different types and possess one of seven different attributes.
Types
(Note: these names may not be official.)
Curve ARMS fly in a wide arc from their starting position before returning, much like a real-life boomerang.
Glove ARMS function like basic boxing gloves.
Heavy ARMS work similarly to Glove type ARMS; however, they are bigger, heavier, and do more damage. They can also be used to block enemy attacks.
Multi-Shot ARMS fire many small projectiles at once, and are therefore harder to evade than other types.
Whip ARMS expand in midair and do lots of knockback damage.
Hammer ARMS swing downward, knocking opponents to the ground.
Beam ARMS fire a beam that cannot be blocked instead of punching traditionally.
Shield ARMS move slowly and can block multiple hits before retracting.
Unique ARMS have their own abilities that are not shared with any other ARMS.
Attributes
There are seven attributes in ARMS. The attribute of an ARM will kick in after it is charged. When a fighter is hit by an ARM with an attribute, they will undergo a specific status effect, and in all cases except Blind, they will be surrounded by an effect of a color corresponding to that attribute.
List of ARMS
Beam, Hammer, and Unique are not official type names for ARMS.
Max Brass' default ARMS--the Nade, Roaster, and Kablammer--were released as part of Version 2.0.0. Lola Pop's default arms which are the Biffler, Funchuk, and Clapback have been teased for the release as part of the Version 3.0.0
Acquiring ARMS
Main article: ARM Getter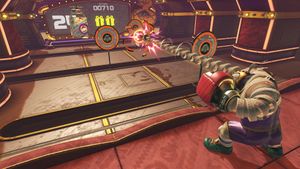 ARM Getter is a single-player training stage that allows the player to acquire new ARMS. Players earn ARMS by hitting a number of reward boxes within a certain time limit. Players may pay

30 for a short timer,

100 for a medium timer, or

200 for a long timer.
Names in other languages
ARMS

Language
Name
Meaning
 Japanese
アームズ
Āmuzu
ARMS
 Dutch
ARMS
ARMS
 French
ARMS
ARMS
 German
ARMS
ARMS
 Italian
ARMA
ARM
 Russian
Оружие
Oruzhiye
Weapons
 Spanish
Puño
Fist

Attribute

Language
Name
Meaning
 Japanese
属性
Zokusei
Attribute
 Dutch
Element
Element
 French
Attribut
Attribute
 German
Attribut
Attribute
 Italian
Attributo
Attribute
 Russian
Особый свойство
Osobyy svoystvo
Special quality
 Spanish
Atributo
Attribute
 Portuguese
Atributo
Attribute