Party Crash Bash
Jump to navigation
Jump to search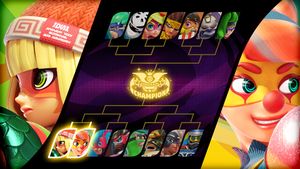 The Party Crash Bash was a series of in-game Party Crashes arranged in a single elimination bracket. Each playable fighter faced off against an other fighter with the winner of each Party Crash moving further through the bracket. Within the event, there were a total of 14 Party Crashes, spanning nearly seven months. In the final round, Min Min and Ninjara met, with Min Min coming out on top, becoming the Party Crash Bash Champion.
List of Party Crashes within the Party Crash Bash
Trivia
The Party Crash Bash ended one day after ARMS' two year anniversary.