Events
This page is a stub and needs more information. Please help ARMS Institute by expanding it.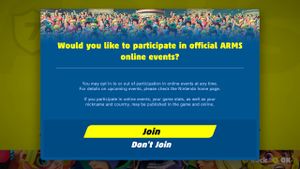 Events was a feature added in Version 2.0.0 where players can choose to join upcoming official online ARMS events hosted by Nintendo. It was later removed in Version 3.0.0.
The option's main menu icon changes depending on whether or not the player has Events enabled; if they are, Biff's hand on top of his head will no longer be held into a fist and a check mark will appear.