EVO Japan 2018
Jump to navigation
Jump to search
EVO Japan 2018

Dates

2018-01-26

to

2018-01-28

Participants
318
Location
Tokyo
Japan
Prize Pool
2018 ARMS Championship Belt
Winner
Pega
Website
smash.gg

EVO Japan 2018 was a major tournament held from January 26th, 2018 to January 28th, 2018. The tournament featured ARMS as a main event and was sponsored by Nintendo. EVO is widely recognized as the premier event for fighting games and the largest fighting game tournament in the world.
The event was revealed on July 17th, 2016 at EVO 2016 and ARMS was revealed to be part of the lineup on July 16th, 2017, at EVO 2017. This would be the first time ARMS was part of the EVO tournament series.
As of June 2020, EVO Japan 2018 is the largest offline ARMS tournament of all time and the second largest ARMS tournament in general behind the ARMS North American Online Open (April 2020).
The tournament was won by Pega with GoreMagala finishing in 2nd and すくらん finishing in 3rd. There was no prize money due to Japanese gambling laws. However, Pega would receive a 2018 ARMS Championship Belt given out by Kosuke Yabuki himself.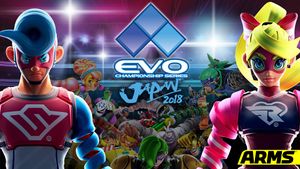 | Placement | Player | Fighter(s) used |
| --- | --- | --- |
| 1st | Pega | |
| 2nd | GoreMagala | |
| 3rd | すくらん | |
| 4th | Mileve | |
| 5th | KHU | |
| 5th | cuvelia | |
| 7th | Shateau | |
| 7th | Cojora | |
| 9th | もち | |
| 9th | がすマスク | |
| 9th | CASTERMILD | |
| 9th | らつこ | |
| 13th | kurayashikitakajin | |
| 13th | meteo | |
| 13th | ユーダ | |
| 13th | ABU | |
| 17th | sarukani | |
| 17th | UHAO | |
| 17th | HanukkahJamboree | |
| 17th | ミスタードラゴン | |
| 17th | オヒョ氏 | |
| 17th | きらくん | |
| 17th | あなほりし | |
| 17th | PoppyJr | |
| 25th | omegapenn | |
| 25th | Maha | |
| 25th | Nobi | |
| 25th | ceo | |
| 25th | hoogon | |
| 25th | あめ | |
| 25th | るしけ | |
| 25th | 板割ドワーフ | |
EVO Japan 2018 - Arms Top 8 Playlist
EVO Japan 2018 - ARMS: Pega vs. Gore Magala - Grand Finals