ARMS VTuber Open
Jump to navigation
Jump to search
ARMS VTuber Open

Dates

2020-10-18

Participants
34
Location
Online
Prize Pool
$400
Winner
Para
Website
Challonge

The ARMS VTuber Open (often abbreviated as AVO) was an online ARMS tournament held on October 18th, 2020 and was initially teased on October 7th [1]. The event was created by Neru with him commentating and hosting alongside bubbMungus and AstroNinja. The three hosts of the event utilized VTuber avatars for the tournament's stream with Neru's being based on Mechanica, bubbMungus' being based on Min Min, and Astro's being inspired by Dr. Coyle. The tournament's bracket was ran by Era and her Discord server was utilized for set communications as well. The $300 prize pot was generously provided by Neru himself with a bonus $100 being added after the bracket reached 32 entrants alongside three $10 Nintendo eShop cards that were raffled off to lucky participants. The event ended with Para taking first place, Twinedfive0 taking second, and Jean Marc placing third.
After the main bracket was concluded, a special Bonus Finals was held in which the tournament's victor, Para, had to face off against each of the VTuber hosts to win a bonus amount of cash. In this Bonus set, Para was required to take one game from each host in order to win the prize, but if he lost a total of three games against the hosts as a collective, he would receive nothing extra. Para managed to win this special set in quick fashion, managing to win 3-0 against the VTuber crew.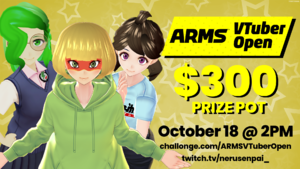 Results
Trivia
The dance featured in the first promotional trailer is based off choreography from the song "specialist" from Persona 4: Dancing All Night.
The end credits featured a dance of "Hare Hare Yukai" from the 2006 Anime series, The Melancholy of Haruhi Suzumiya.[2]
AstroNinja's VTuber avatar is named Tessa and is an alternate universe counterpart of Dr. Coyle.
Neru's VTuber avatar is named Nade-chan in honor of Neru's favorite ARM: the Nade. Her shirt is also inspired by the Nade's design.
Alongside the three VTuber avatar presenters, there were also guest appearances by Steve from Minecraft, Ugandan Knuckles, and an original VTuber avatar named Mango (a female avatar inspired by Misango).
External Links
Announcement Trailer
ARMS VTuber Open Stream VOD

References