Items
From ARMS Institute, the ARMS Wiki
Items are tools that randomly spawn in battle, carried by drones. They can either damage or heal fighters. Their spawning can be toggled in the game's rules.[1]
An item drone initially spawns between fighters. A punch can be blocked by an item drone before it drops its HP or Rush Juice.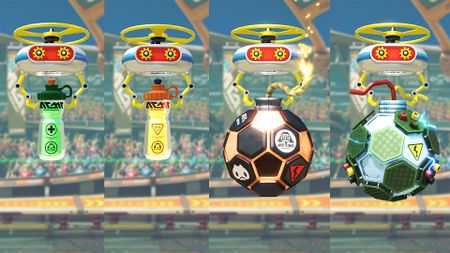 List of items
Other appearances of drones
Item drones also serve other purposes beyond bringing items into fights. These include:
They also make an appearance in Super Smash Bros. Ultimate on the stage Spring Stadium. If items are turned on, they will occasionally appear carrying one. Unlike the item drones in ARMS, the drones in Super Smash Bros. Ultimate must be hit by the player for them to drop their item. In the Mr. Sakurai Presents video on Min Min, the item drones are referred to as "ARMS Drones".
Names in other languages
Language
Name
Meaning
 Chinese (Traditional)
物品
Mahtbán
Item
 Chinese (Simplified)
道具
Dàojù
Tool
References